Preferred Customer Program Adds Horsepower

Preferred Customer Program Adds Horsepower
The AMSOIL Preferred Customer Program has been souped up – and that's great news for our family of thrill-seekers, racers and gearheads. Starting in November, Preferred Customers will enjoy more ways to save on the products they trust to protect their vehicles and equipment.
Some Things Never Change
The existing program's top perks are staying put. Preferred Customers will continue to enjoy up to 25% off every order and free shipping on orders of $100 ($130 Can.) or more. In addition, Preferred Customers will still receive exclusive promotional offers throughout the year and the quarterly AMSOIL Magazine with the latest product details, technical information and complete product catalog. The low membership fee is also staying the same. A full year's membership is still only $20 ($30 Can.), and new Preferred Customers can start with a six-month trial membership for just $10 ($15 Can.).
What's New?
Going forward, Preferred Customers will receive a $5 voucher every time they spend $100 with us. Members will also receive a $5 birthday gift to spend on their next order or membership renewal. And, if they spend $500 or more in a year, their membership renewal will be on us. Preferred Customers will be able to track their order history and progress toward free membership renewal through their personal and secure online My Rewards page.

The Fine Print
Reward coupons can be combined for use in a single purchase or with other promotional offers. All rewards will be sent through email and must be used by the expiration date shown. New Preferred Customers who spend $500 or more during the six-month introductory period will qualify for complimentary membership renewal. Preferred Customers must spend $500 each renewal year to remain eligible for free membership.
Out with the Old
Some benefits are getting left behind. To fuel Preferred Customer growth, we want to keep the program simple and straightforward. We want high-impact benefits, not dead weight. We surveyed our independent Dealers, Preferred Customers and catalog customers to ask which benefits are valued most – and which are not. Based on that feedback, P.C. points will be discontinued. Points will no longer be earned after Nov. 1; however, members will have until June 1, 2022 to use up their current bank of P.C. points. Referral rewards and free swag items will also be discontinued on Nov. 1.

AMSOIL Preferred Customers are an elite community passionate about vehicle performance. We hope you're as excited about the new program benefits as we are.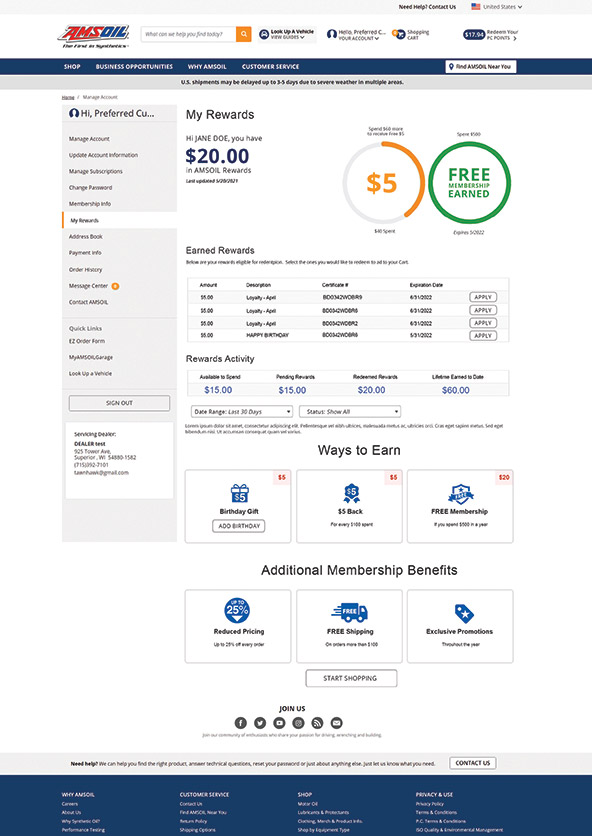 Refine your search
Filter by
Related Articles