Premium Protection for High-Horsepower Chrysler and Nissan Application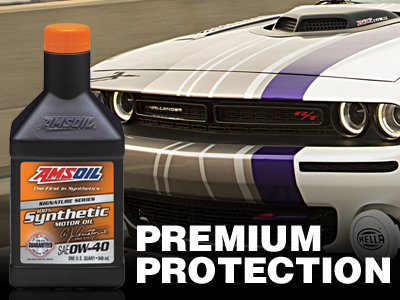 New 0W-40 viscosity rounds out the Signature Series line.
Muscle cars ruled the American landscape in the 1960s and '70s, and many of those signature models, such as the Dodge Challenger and Charger, are now available in faster, more powerful designs. In this day and age, it's not uncommon to find production models that top 600 horsepower and 600 pound-feet (lb-ft) of torque. In fact, the 2015 Challenger Hellcat is the fastest production muscle car of all time, kicking out 707 horsepower and 650 lb-ft of torque.
Powerful muscle car and big truck engines need a high-performance lubricant, and much like these powerful vehicles, AMSOIL sets the bar high when it comes to performance. AMSOIL established all-new standards for motor oil quality and performance when it introduced the world's first synthetic motor oil to meet American Petroleum Institute (API) service requirements in 1972, and it continues to produce the top-performing lubricants available on the market.
New Signature Series 0W-40
Along with the new 5W-50 viscosity formulated for high-horsepower Ford Mustang engines, the Signature Series line now includes a robust 0W-40 synthetic motor oil formulated specifically for high-horsepower Chrysler and Nissan engines. AMSOIL Signature Series 0W-40 Synthetic Motor Oil (AZF) provides top-of-the-mark protection and performance that customers expect from Signature Series.
Withstands the stress of high horsepower and heat to provide outstanding wear protection
Resists viscosity loss due to mechanical shear
Resists thermal breakdown
Helps prevent sludge deposits and keeps engines clean
Reduces oil consumption and emissions
Maximizes fuel economy
Applications
Signature Series 0W-40 is recommended for Chrysler and Nissan applications calling for a 0W-40 viscosity and requiring the following performance specifications:
API SN, SM...
Chrysler MS-12633, MS-10725, MS-10850
Nissan GT-R®
Applications include, but are not limited to, the following:
Dodge Charger 6.1L/6.4L
Dodge Challenger 6.1L/6.4L
Dodge Viper 8.3L/8.4L
Dodge Ram 2500/3500/4400/5500 6.4 L
Chrysler 300 6.1L/6.4L
Jeep SRT Grand Cherokee 6.1L/6.4L
Nissan GT-R 3.8L
Refine your search
Filter by
Related Articles