Signature Series: Maintains Protective Viscosity
The main bearings in your vehicle rely on an oil film thinner than a sheet of paper. When motor oil loses viscosity due to a process called shear, it can fail to provide the required level of wear protection.
Shear (often called mechanical shear) occurs when one layer of oil moves in the opposite direction of another layer of the same oil. This often occurs between the piston and cylinder wall. These two oil films move in opposite directions under intense heat and pressure.
AMSOIL synthetic motor oil features naturally shear-resistant base oils combined with top-tier viscosity improvers to withstand extreme heat and shearing forces. In fact, Signature Series fights viscosity breakdown better than thecompetition*, providing superior protection of pistons, cams and bearings.
Signature Series stands up to the potentially devastating effects of viscosity breakdown and provides maximum engine protection.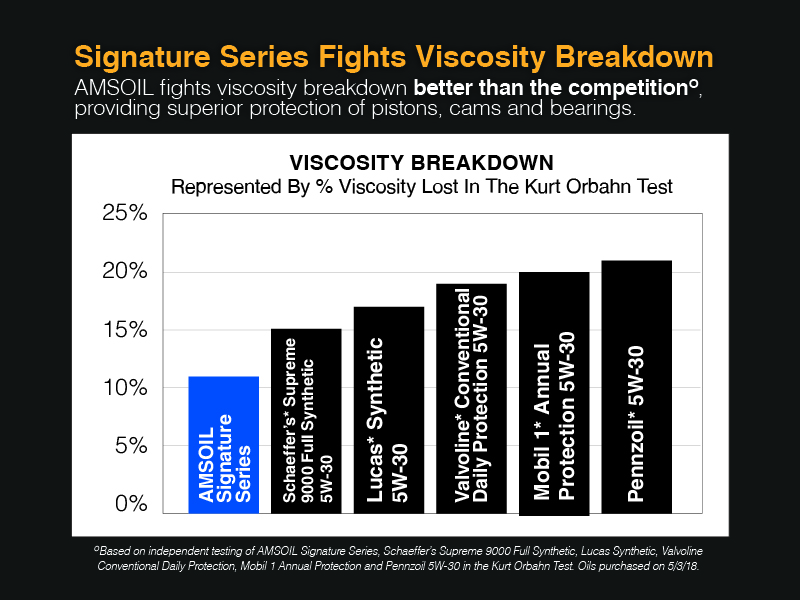 *Based on independent testing of AMSOIL Signature Series, Schaeffer's Supreme 9000 Full Synthetic, Lucas Synthetic, Valvoline Conventional Daily Protection, Mobil 1 Annual Protection and Pennzoil 5W-30 in the Kurt OrbahnTest. Oils purchased on 5/3/18.
Refine your search
Filter by
Related Articles