European Motor Oils and SAPS Content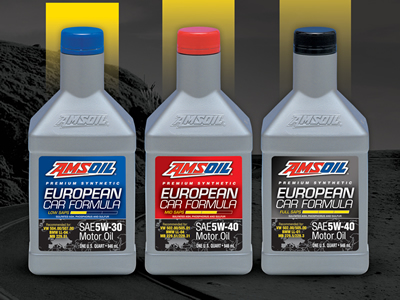 Expanding Market
European vehicle market share has grown steadily over the last decade, with roughly 10 percent of all vehicles sold in the U.S. today bearing a European badge.
What is SAPS?
SAPS stands for sulfated ash, phosphorus and sulfur. They comprise a significant portion of a motor oil's additive content. Sulfated ash is not added to oil; it is the result of additives in the oil burning and creating ash. The additives that can produce ash are most commonly used for total base number (TBN), but also help in other areas, like antioxidancy, anti-wear, cleanliness and soot handling. Phosphorus provides anti-wear properties and further antioxidancy, while sulfur contributes antioxidancy, anti-wear properties and engine cleanliness.
SAPS Levels
Given the beneficial properties these additives impart, it's easy to assume a higher concentration equals a better oil. But higher SAPS levels can be a detriment to expensive exhaust devices, such as diesel particulate filters (DPFs) and catalysts. The European Automobile Manufacturers' Association (ACEA) and original equipment manufacturers (OEMs) realized the importance of using motor oil formulated with precise SAPS levels, and lower limits were established in 2010.
The three different SAPS levels of European motor oils can be confusing, especially when considering the same viscosity motor oil (5W-40) is available in mid- and full-SAPS AMSOIL European Car Formula options.
Finding the Correct Oil
Using an oil with the correct SAPS level is vital to maximizing the longevity and performance of European vehicles.

To determine the correct motor oil recommendation, consult the vehicle owner's manual for the recommended OEM specification and viscosity, and match the corresponding AMSOIL product. You can also consult the Online Product Guide at amsoil.com or MyAMSOILGarage™ to determine the correct oil.

AMSOIL formulates low-, mid- and full-SAPS European synthetic motor oils to satisfy the needs of all European cars and light trucks. They are formulated to meet the unique demands of sophisticated European vehicles, delivering excellent all-season performance, maximum fuel economy and enhanced turbocharger protection.
AMSOIL European Car Formula 5W-30 Low-SAPS Synthetic Motor Oil (AEL) is recommended for European gasoline or diesel vehicles requiring any of the following performance specifications: • VW 504.00/507.00 • Mercedes-Benz 229.51 • BMW LL-04 • Porsche C30
AMSOIL European Car Formula 5W-40 Mid-SAPS Synthetic Motor Oil (AFL) is recommended for European gasoline or diesel vehicles requiring any of the following performance specifications:
Manufacturer Approvals
BMW Longlife-04
MB-Approval 229.51
Porsche A40
Recommended for:
API CF/SN/SM...
ACEA C3
Ford WSS-M2C917-A
GM dexos2™ (supersedes LL-A-025 and LL-B-025)
Chrysler MS-10850 (supersedes MS-10896)
Renault RN0700/RN0710
Volkswagen 502.00/505.01
AMSOIL European Car Formula 5W-40 Full-SAPS Synthetic Motor Oil (EFM) is recommended for European gasoline or diesel vehicles requiring any of the following performance specifications:
API SN/SM
ACEA A3/B3, A3/B4
BMW LL-01
GM/Opel LL-B-025
Mercedes-Benz 229.3, 229.5
Porsche A40
Renault 0710, 0700
Volkswagen 502.00, 505.00
Refine your search
Filter by
Related Articles