Superior Protection for Winter Powersports Equipment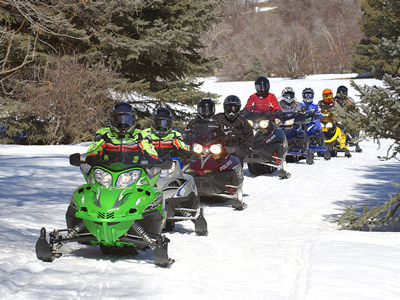 Formula 4-Stroke® Power Sports Synthetic Motor Oil
Provides serious protection and performance in four-stroke snowmobile and ATV engines. Broad 0W-40 viscosity rating provides superior protection in both hot and cold temperature extremes. Provides superior shear stability and resistance to vaporization so engine wear, oil consumption, friction, heat and emissions are kept to an absolute minimum.
INTERCEPTOR® Synthetic 2-Stroke Oil
Engineered specially for powersports applications and those engines equipped with exhaust power valves. Contains the fi nest synthetic base oils and additives available for exceptional cleanliness properties. Controls exhaust valve sticking and provides outstanding overall lubrication properties.
More Information...
---
DOMINATOR® Synthetic 2-Stroke Racing Oil
Robust formulation specially engineered for unsurpassed protection in high-performance two-cycle motors, both on and off the track. Heavier synthetic base oils provide more lubricity for "on the edge" operation. Reduces friction and protects pistons and bearings subjected to the rigors of racing.
More Information...
---
Shock Therapy Suspension Fluid
Provides maximum stability and performance in high-performance fork and shock applications. Effectively controls friction and heat and significantly reduces wear and scuffing. Viscosity remains constant and foam and aeration are kept to a minimum, limiting shock fade and inconsistent dampening. Offers superior performance in temperature extremes. Available in "light" and "medium" formulations.
More Information...
---
Synthetic Chaincase & Gear Oil
Superior protection and performance for enclosed chains. Extreme pressure additives provide extra wear protection. Extends chain life, repels water and inhibits rust, oxidation and foam. Superior low-temperature starting, performance and protection. Reduces high viscosity drag and increases power.
More Information...
---
Synthetic Water-Resistant Grease
Extreme-pressure multi-purpose grease offers excellent cohesiveness and adhesiveness for wet-duty performance. Provides superior protection and performance over a broad temperature range, resists water washout and degradation and seals metal surfaces against rust and corrosion.
More Information...
---
Heavy-Duty Metal Protector
Heavy-duty spray lubricant fortified with special rust and corrosion inhibitors. Penetrates and adheres to metal surfaces, leaving a dry, long-lasting wax-like protective coating. Apply to trailer frames and hitches, suspension components and any other metal surface that requires a heavy-duty lubricant or is exposed to the damaging effects of salt, moisture or chemical corrosion. Coats front suspensions and protects against road salt, and is ideal for protecting snowmobile skis while in summer storage.
More Information...
Refine your search
Filter by
Related Articles